Protection against harmful UV rays is top priority when you are out in the summer sun. Our DD creams offer a light tint for coverage and light UV protection, all in one go! Spend more time enjoying summer and less time getting ready.
Get your legs beach-holiday ready!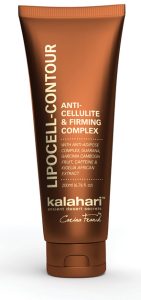 The LIPOCELL-CONTOUR GEL is formulated with scientifically proven botanical ingredients with multiple treatment benefits which target the visible appearance of cellulite, improves the skins elasticity, firmness, promotes lymph flow and cell de toxification. The perfect product for smooth summer legs!
the most wonderful time of the year
Franck Global's Founder & CEO, Carina Franck, reveals what's new this month – from her desk to yours…
Prepare for your travels this holiday season with our new travel kits!
Make traveling a breeze with our new travel kits, for all your body and skincare needs. Featuring brand new travel bag designs to help keep things organised on the go!
How can you prepare your skin for summer?
To prepare your skin for summer, start with by exfoliating your skin to remove dead cells and promote a healthy, radiant complexion. Hydrate by drinking plenty of water and using a moisturiser. Don't forget to apply a broadspectrum sunscreen like our K Phyto-Ceutical SPF 40. Stay consistent with sunscreen reapplication, especially if you're spending time outdoors. With these steps, you'll be ready to enjoy the sun while keeping your skin healthy and glowing all summer long.
Hydrate your skin with a Lipid Rich Skin Treatment
An ultra-hydrating treatment compounded with nourishing plant lipids, essential nutrients, and antioxidants. This treatment includes a gentle finger-tip massage to allow the rich botanical ingredients to penetrate and to restore the skin's hydrolipid barrier and dermal hydration. This deeply nourishing treatment is recommended for all skin conditions excluding severe problematic skin conditions.
Newsletter - November/December 2023